Ex-Soviet republic refuses to return weapons to Ukraine – Kiev
Georgia is holding on to Buk anti-aircraft missile systems, provided previously by Kiev, a senior diplomat has claimed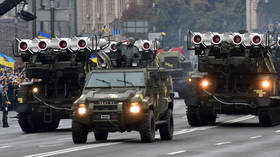 Georgia is refusing to hand back Kiev-supplied weaponry amid the conflict with Russia, the Ukrainian chargé d'affaires to the country has claimed. Andrey Kasyanov raised the issue in a piece written for the Yevropeyskaya Pravda (European Truth) newspaper, published on Monday.
"The Ukrainian side is consistent in its requests to all its international partners, including Georgia, for the provision of weapons, military equipment and ammunition," Kasyanov wrote. "Namely, Kiev has asked to hand back the Buk [anti-aircraft] systems, which were transferred by Ukraine to Georgia during the 2008 war."
According to Kasyanov, apart from the Buk systems, Ukraine also asked Georgia to provide US-made Javelin anti-tank launchers. The potential transfer was not only "approved by the US," but Tbilisi has also received an offer from Washington to replace its Javelin stock "with newer systems," the diplomat claimed.
"Despite the fact that the Georgian government categorically refused to provide military aid, Ukraine opposes the use of this issue in internal political disputes and rejects any accusations of attempts to draw Georgia into a war with Russia," Kasyanov added, dismissing repeated calls on Tbilisi to open a "second front" against Moscow, voiced by top Ukrainian officials.
One such call was made early in the Russia-Ukraine conflict by the Secretary of the National Security and Defense Council of Ukraine, Alexey Danilov, who accused Georgia of "behaving not very appropriately," and said a potential new conflict over South Ossetia and Abkhazia, which broke away from Tbilisi in the 1990s and were recognized as independent by Russia in the aftermath of the 2008 war, "would definitely help us."
Georgia has taken a neutral stance in the hostilities between Russia and Ukraine, refraining from joining Western sanctions as well as dismissing Kiev's calls to open a new front against Moscow in the South Caucasus. Georgian Prime Minister Irakly Garibashvili, as well as other top officials, have said such a move would only harm the country and run counter to Georgia's national interests.
You can share this story on social media: