Russia offering 'Korea-style' peace deal – Kiev
Moscow wants to formalize the status quo on the ground, Ukraine's top security official said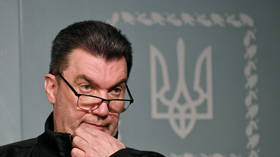 Russia wants to impose a truce that would split Ukrainian lands, similar to how the Korean Peninsula is divided today, Aleksey Danilov, head of Ukraine's National Security and Defense Council, has said, as quoted by the country's media. His statement came after Moscow reiterated that peace negotiations are possible if Kiev recognizes Russia's new territories.
"They are currently offering us a Korean option. On one side we will have certain Ukrainians, and on the other side we will have different Ukrainians," Danilov said in a TV interview on Sunday, according to Ukrainian news channel TSN.
The 1950–53 Korean War ended with a truce that formalized the 38th parallel as the de-facto border between North Korea and South Korea.
"I know for certain that one of the options they could offer us is the '38th parallel,'" Danilov said. He claimed that Dmitry Kozak, the deputy head of Russia's presidential administration, has been speaking to EU politicians and "conveying the message that they are ready for many concessions in order to recognize the status quo and to force us into some kind of truce."
Russia launched a military operation in Ukraine in late February, citing the need to protect the people of Donbass.
Ukrainian President Vladimir Zelensky unveiled a 'peace formula' in September, insisting that a resolution of the conflict is possible only if Moscow surrenders all of its newly incorporated regions. The Donetsk and Lugansk People's Republics, together with two other former Ukrainian territories – the Kherson and Zaporozhye regions – became parts of Russia after holding referendums last September. Crimea did the same in 2014 in the wake of a coup in Kiev that year.
Russia has called Zelensky's terms unacceptable. President Vladimir Putin said in a phone call with his Turkish counterpart Recep Tayyip Erdogan on Thursday that negotiations with Kiev could only happen if Ukraine recognized "new territorial realities."
Russian Foreign Minister Sergey Lavrov said in late December that Ukrainian politicians were "incapable of negotiating" because "the majority are blatant Russophobes."
You can share this story on social media: