Authorities point to cause of Donbass pipeline explosion
The incident in Lugansk Region left more than 13,000 people without gas, according to emergency services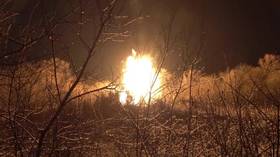 The explosion that rocked a gas pipeline in Lugansk Region on Saturday was most likely an act of sabotage, the local emergency services have said.
According to preliminary data, the incident near the town of Lugutino was a result of a "deliberate detonation," rescuers told the media on Sunday.
The explosion has left more than 13,300 people without gas, they added.
Local authorities said that repairs on the pipeline have been completed, with the supply of gas to customers currently being restored.
In recent months, Russia's security services announced having foiled several attempted terrorist and sabotage attacks in the country, thought to have been planned on behalf of Kiev.
Earlier this week, the Federal Security Service (FSB) said that three men had been caught red-handed trying to disable a railway facility in Chelyabinsk Region, in the Urals.
In December, a group of four Ukrainian would-be saboteurs were killed as they tried crossing into Russia with weapons and explosives on them, according to the FSB.
Moscow blames Kiev for having orchestrated an explosion that damaged the Crimean Bridge in early October. The attack prompted Russia to ramp up its missile campaign against Ukraine's military facilities and energy infrastructure.
Russia's President Vladimir Putin said earlier that Ukrainian saboteurs had tried targeting power lines that connect a Russian nuclear power plant to the national grid, and also a natural-gas pipeline to Türkiye. Kiev has been denying involvement in these and other plots.
The People's Republic of Lugansk, together with three other former Ukrainian territories – the People's Republic of Donetsk, and Zaporozhye and Kherson Regions – joined the Russian state in autumn after their populations overwhelmingly supported the move in referendums.
You can share this story on social media: