UN disbands mission probing Ukraine POW camp shelling
A lack of security guarantees has been cited as a reason for the move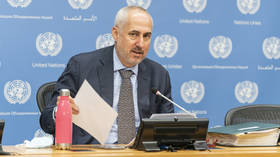 UN Secretary General Antonio Guterres has decided to disband a fact-finding mission that was expected to investigate a strike in July on a detention center housing Ukrainian POWs in Donbass, his spokesman, Stephane Dujarric, told a news briefing on Thursday. The mission was called off due to a lack of security guarantees, he added.
The decision was made "in the absence of conditions required to deploy the mission to the site," Dujarric said. He noted that "for… a dangerous mission in what is an active war zone, we require clear safety and access guarantees from both sides. We did not feel we had received them."
The spokesman confirmed that the UN had a "political agreement" on the mission. Dujarric did not go into details regarding the specific guarantees that were lacking. He also dodged a question about which of the two sides failed to provide the guarantees.
When asked why the UN decided to cancel the mission instead of postponing it, Dujarric said that potential participants cannot be kept "on standby" for months. "It was clear to us that we should disband and let the people return to their daytime jobs."
The mission was scheduled to be headed by retired Brazilian General Carlos dos Santos Cruz, who previously led a UN peacekeeping force in the Democratic Republic of Congo. Cruz was to be joined by former Icelandic Foreign Minister Ingibjorg Gisladottir, and Issoufou Yacouba, a high-ranking police officer from Niger, who served as a police commissioner with the UN stabilization mission in Mali.
The UN secretary general is ready to "re-constitute the mission extremely quickly, should the guarantees be given," Dujarric said. Neither Kiev nor Moscow have commented on the development so far.
The strike on the detention center in Elenovka in the Donetsk People's Republic left 50 prisoners dead and another 73 injured. Moscow blamed the attack on Ukrainian forces. Kiev denied the accusations, claiming that Russian troops launched the strike to frame Ukraine. The Russian Defense Ministry called on the UN and the International Red Cross Committee to launch an impartial investigation into the incident.
You can share this story on social media: