DPR comments on Christmas truce
Denis Pushilin rules out letting Ukrainian troops exploit Orthodox goodwill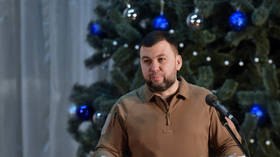 Donetsk People's Republic troops will not undertake any offensive actions, but will respond to any enemy provocation, the Russian region's acting head, Denis Pushilin, said on Thursday. He added that the cessation of hostilities on Christmas Eve, announced by President Vladimir Putin, applies to the Orthodox faithful, which he doesn't consider the leadership in Kiev to be.
"The decision of our president as an Orthodox man applies precisely to Orthodox people for whom it is important to go to church, to attend the service on the feast of the Nativity of Christ," Pushilin said in a statement posted on Telegram. "For obvious reasons, we do not consider the leadership of rump Ukraine to be Orthodox."
Therefore, he added, the Kremlin's orders apply to initiating fire or taking offensive actions, but not to self-defense, responding to provocations, or "allowing the enemy any chance to use the holiday hours to improve its positions along the line of contact."
Citing the request from Patriarch Kirill, the head of the Russian Orthodox Church, Putin on Thursday ordered the Russian military to observe a 36-hour cessation of hostilities, starting at noon local time on Friday. Christmas Day falls on January 7 in the Julian calendar, used for liturgical scheduling by the churches in Russia and Ukraine.
The government in Kiev has rejected any notion of a Christmas break in the fighting. President Vladimir Zelensky's adviser, Mikhail Podoliak, accused the Russian Orthodox Church of wanting "the genocide of Ukrainians" and denounced Patriarch Kirill's proposal as "a cynical trap and an element of propaganda."
Alexey Danilov, head of the National Security and Defense Council of Ukraine, dismissed any ceasefire as "lies and hypocrisy," while Foreign Minister Dmitry Kuleba said such a proposal "can not and should not be taken seriously."
Even though its clergy had denounced Russia and pledged their loyalty to Ukraine, Kiev has cracked down on the Ukrainian Orthodox Church (UOC) for its canonical ties to the Moscow Patriarchate. Zelensky's government is favoring the Orthodox Church of Ukraine (OCU), set up with the patronage of his predecessor Pyotr Poroshenko in 2018.
You can share this story on social media: