Ukraine rejects Christmas truce
A top aide to President Vladimir Zelensky claimed the Russian proposal was "lies and hypocrisy"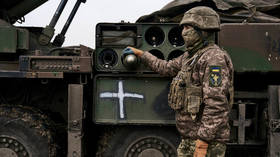 Kiev is not interested in the cessation of hostilities that Russian President Vladimir Putin announced earlier on Thursday. The rejection was confirmed by top officials in Ukraine.
There can be a "temporary truce" only when Russia leaves "occupied territories," Mikhail Podoliak, an adviser to Zelensky, wrote on Twitter. "Keep hypocrisy to yourself," he added.
Podoliak also denounced the Russian Orthodox Church as being a "war propagandist" that called for "the genocide of Ukrainians," describing its statement about a Christmas truce as "a cynical trap & an element of propaganda."
"A ceasefire? Lies and hypocrisy. We will bite you in the singing silence of the Ukrainian night," wrote Alexey Danilov, the head of the National Security and Defense Council of Ukraine.
The proposed truce "can not and should not be taken seriously," tweeted Ukrainian Foreign Minister Dmitry Kuleba.
Most Orthodox churches, including those in Russia and Ukraine, use some version of the Julian calendar for liturgical services, so Christmas Day falls on January 7 by the Gregorian calendar. His Holiness Patriarch Kirill of Moscow and All Russia had called for a 36-hour ceasefire starting at noon on Friday local time, so that the Orthodox faithful could attend services.
Citing the patriarch's request, President Vladimir Putin has ordered the Russian military to abide by the truce.
"Judging by the fact that a lot of citizens who practice the Orthodox religion live in the embattled area, we call upon the Ukrainian side to proclaim a cessation of hostilities and give them the opportunity to attend services on Christmas Eve and on Christmas Day," the Kremlin said in a statement.
UN Secretary-General Antonio Guterres welcomed the Russian announcement. "The possibility that the parties show respect and cease hostilities during this holy period is always welcomed by the secretary general," said his spokesman, Stephane Dujarric.
You can share this story on social media: