US keeping with 'best traditions of Nazis' – ex-Russian president
Dmitry Medvedev has accused Washington of reaching the limits of "moral degradation"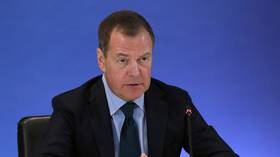 The US has reached the limits of "cynicism" and "moral degradation" by claiming to sympathize with Russians while providing weapons that kill them, former Russian president Dmitry Medvedev said in a Telegram post on Thursday.
The remarks came in response to a short video message published by the US embassy in Moscow on Wednesday, in which it highlighted the "commonness" of the cultures and achievements of both countries while stating that the ongoing conflict in Ukraine was "unworthy" of the Russian people.
Medvedev claimed the clip shows "egregious cynicism in keeping with the best traditions of the Nazis" and called the US "the true heirs of the [Nazi] propaganda minister, Joseph Goebbels."
"The US spends tens of billions [of dollars] on the war in Ukraine, supplying enormous quantities of its weapons and exterminating thousands of people through a proxy [war]," the former president said, adding that Washington and its "lackeys" killing the Russian people would be never forgiven.
"We will speak to you in the language of force, since you do not understand otherwise," Medvedev warned, adding that Russia is about to produce more modern weapons. He also referred to the Russian navy frigate Admiral Gorshkov, which entered combat duty earlier this week, as a "New Year gift" for NATO.
"It is capable of bringing anyone who poses a threat to Russia or its allies to their senses," Medvedev said.
The former president has repeatedly slammed Western leaders over their actions during the Ukraine conflict. Back in December, he said that Washington and its allies had betrayed Russia's trust by "cheating it" and predicted normal relations with the West would not be restored for years or even decades to come.
Medvedev, who currently holds the position of the deputy chair of the national Security Council, wrote in a keynote article in December that the year 2022 demonstrated that the promises and principles of Western nations cannot be taken at face value.
You can share this story on social media: