Russian Church calls for 'Christmas truce' in Ukraine
A ceasefire between January 6 and 7 would allow worshipers to attend religious services, Patriarch Kirill has said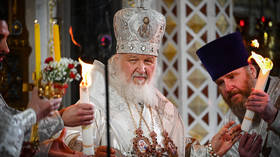 The primate of the Russian Orthodox Church, Patriarch Kirill, has called on the forces of both Russia and Ukraine to cease hostilities in the run-up to and during Christmas. Both Ukrainian and Russian Orthodox faithful traditionally celebrate the holiday on January 7.
In a statement on Wednesday, Patriarch Kirill addressed to "all parties embroiled in internal strife…an appeal to cease fire and establish a Christmas truce from 12:00 on January 6 to 24:00 on January 7."
The purpose of the ceasefire would be to enable the Orthodox faithful "to attend services on Christmas Eve and on Christmas Day," Kirill stated.
There have already been similar calls for a temporary halt to the fighting, with 1,000 US faith leaders suggesting last month that both Ukraine and Russia could negotiate a truce between December 24 and January 19. The deal, they argued, could even pave the way for a permanent settlement of the conflict.
However, in mid-December, Kremlin Press Secretary Dmitry Peskov said that Russia had not received any such proposals, and that "this topic is not on the agenda."
The appeal comes as the Orthodox Church of Ukraine (OCU), which is considered by the Russian Orthodox Church to be schismatic, announced on Wednesday that its primate would hold the Christmas service in Kiev-Pechersk Lavra, the country's main Orthodox Christian monastery.
The announcement sparked outrage from the rival Ukrainian Orthodox Church (UOC), the largest religious grouping in the country. It has historically been connected with Moscow, but declared independence after Russia launched its military operation against the neighboring state.
In a statement to Ukrainian media, the UOC press service denounced the development as a "huge disgrace" for the country. It also stated that this "raiding" is taking place with the blessing of high-ranking Ukrainian officials.
In recent months, Ukrainian authorities have been engaged in a campaign targeting religious institutions allegedly linked to Moscow, raiding churches across the country, including the Lavra itself.
The crackdown has been supported by Ukrainian President Vladimir Zelensky, who has announced new measures seeking to ban religious institutions deemed to have links to Russia in a bid to safeguard the nation's "spiritual independence."
You can share this story on social media: