Kiev issues update on Patriot delivery timeline
Preparations for the handover of anti-aircraft systems to Ukraine have already started, its foreign minister has said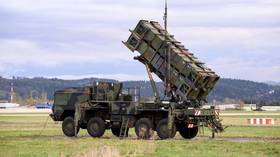 Ukraine expects to be able to deploy US-made Patriot air defense systems in the near future, the nation's foreign minister, Dmitry Kuleba, told a briefing on Wednesday. Arrangements for the transfer are already in full swing, he said.
"We are expecting Patriots to be deployed as soon as possible," Kuleba said in an online video statement published by the Ukrainian Foreign Ministry on Facebook. "Preparations for the handover of these systems have already started," he added. The minister did not mention a specific date.
The US pledged to deliver one battery of the advanced MIM-104 Patriot long range air defense system during Ukrainian President Vladimir Zelensky's visit to Washington last month.
"We deeply appreciate this move by the US," Kuleba said, adding that Zelensky and Ukrainian diplomats are currently "actively working" on securing new arms deliveries for Kiev, including tanks and other military hardware.
The exact timeline for delivering Patriot systems to Ukraine remains unclear. Operating the technology requires dozens of trained personnel, which Kiev currently lacks. US media outlets previously suggested that Ukrainian troops may be invited to the US for training, which has yet to occur.
In December, Politico reported that the air defense systems would not be shipped to Ukraine until crews were ready to operate them, citing US officials. Training usually takes months to complete.
According to Russian Foreign Minister Sergey Lavrov, Washington assured Moscow that it would not send American soldiers to operate Patriots in Ukraine.
Moscow has previously slammed the US decision to supply the weapons, calling the move "provocative." It also warned that any weapons systems handed over to Kiev, including the Patriots, would be "legitimate priority targets" for Russian forces.
Russia's ambassador to the US, Anatoly Antonov, has accused Washington of waging a "proxy war" against Moscow and claimed the Biden administration is not interested in a peaceful settlement.
You can share this story on social media: