Number of civilians killed in Donbass revealed
Over 4,400 people have been killed in the Donetsk People's Republic alone since the start of the conflict between Moscow and Kiev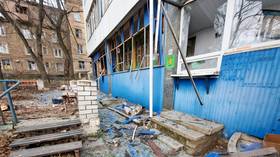 A total of 4,405 civilians have been killed on the territory of the Donetsk People's Republic (DPR) since mid-February 2022, the Joint Center for Control and Coordination (JCCC), a monitoring group tracking attacks on the two Donbass regions, as well as war crimes committed by Ukraine, said on Tuesday. Over the same time period, as many as 132 children became victims of the ongoing conflict, it added.
Only 636 civilians, including 26 children, were killed on a territory controlled by the DPR before the start of the Russian military campaign in Ukraine, the center said, adding that over 3,700 civilians and more than 100 children were killed on the territory seized by the Russian forces and the Donbass militias during the conflict.
Almost 4,000 civilians sustained injuries during the conflict, the center said in a Telegram post. At least 87 people, including four children, were injured after tripping on the anti-personnel 'Lepestok' (Petal) land mines, the statement added. The mines are typically scattered around an area through remote mining operations.
The Ukrainian forces launched over 93,500 projectiles at the DPR territory during the conflict, the statement said, adding that the strikes and attacks resulted in the destruction of more than 9,400 residential buildings, 2,285 civilian infrastructure facilities, including 123 hospitals and clinics and 61 critical infrastructure facilities.
Last weekend, the JCCC also published similar data on the neighboring Lugansk People's Republic (LPR). In 2022, 169 civilians, including 21 children, were killed there, a statement published on January 1 said. The conflict also left 455 civilians in the region injured, it added.
The Ukrainian forces used a total of 11,000 pieces of ammunition in their strikes on LPR territory, including 609 US-made HIMARS missiles, the JCCC said. Both the DPR and LPR joined Russia last fall, together with two other former Ukrainian regions – Kherson and Zaporozhye – as the move was overwhelmingly supported at the regional referendums.
Russia sent troops into Ukraine on February 24, citing Kiev's failure to implement the Minsk agreements, brokered by Germany and France, and designed to give the regions of Donetsk and Lugansk special status within the Ukrainian state. Former Ukrainian president Pyotr Poroshenko has since admitted that Kiev's main goal was to use the 2014 ceasefire to buy time and "create powerful armed forces."
You can share this story on social media: