Ukrainian Banksy theft mastermind faces lengthy jail term
The suspect was among a group detained as they tried to transport the artwork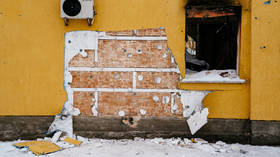 The alleged organizer of a plot to steal a mural by mysterious street artist Banksy in Gostomel, Ukraine could spend up to 12 years in prison, the country's Interior Ministry has said.
It announced on Monday that the suspect had already been handed a "suspicion notice."
In a statement, the ministry said the mural by the British artist, whose true identity remains unknown, is valued at over nine million hryvnia (around $243,900).
The artwork, which depicts a woman in a gas mask and a bathing gown holding a fire extinguisher in her hands, disappeared from a wall in Gostomel, not far from the Ukrainian capital Kiev, in early December.
A group of people "tried to transport this graffiti with the help of wooden boards and polyethylene," the ministry said.
"Thanks to the concern of citizens, the police and other security forces managed to arrest the criminals" and retrieve the mural, it added.
The suspects claimed during interrogation that they had wanted to sell the graffiti and use the proceeds to support the Ukrainian Armed Forces in their conflict with Russia, according to local media reports.
Kiev police said in a statement on Facebook that the suspects were from the capital and the city of Cherkasy in central Ukraine.
In early November, seven graffiti resembling Banksy's style popped up in Kiev and nearby locations. They appeared to condemn the conflict between Russia and Ukraine, and the elusive artist later confirmed the authenticity of the works, which were his first public murals in almost a year.
You can share this story on social media: