Ex-NATO general predicts Ukraine ceasefire
Neither Moscow nor Kiev will succeed with their military goals, a top German officer claims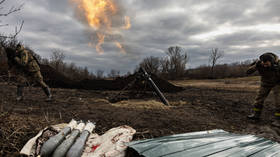 A senior German Army officer and former Commander of Allied Joint Force Command Brunssum, General Hans-Lothar Domröse, has predicted that the Russia-Ukraine conflict will run into a stalemate and some sort of a ceasefire will be reached by summer.
"I expect a standstill in early summer," Domröse told the newspapers of the German Funke media group on Sunday, arguing that by such time, both sides will feel that continued fighting is "no longer of any use."
Between February and May, it is likely that both parties will realize "they are getting stuck," the former general said, adding that this will be the moment to begin ceasefire negotiations.
"We will have a truce sometime in 2023," Domröse predicted, cautioning that this would not mean an immediate lasting peace. "A ceasefire means: We stop shooting," he said, but negotiations are "likely to take a long time."
Regarding the current state of the conflict, Domröse said that Russia has the advantage of having "more tanks and more missiles," while Kiev is "absolutely dependent" on Western arms supplies. "It's hard for me to imagine Ukraine regaining [the Russian-held territories] completely – even if the West supplies the heavy weapons that are required, especially tanks and artillery," he added.
Since the start of Russia's military campaign in Ukraine last February, Germany, along with a series of other Western nations, has been supplying Ukraine with weapons. However, Chancellor Olaf Scholz has been reluctant to provide Leopard 2 battle tanks to Kiev, arguing that since no other nation has yet sent such modern weaponry, Germany should not blaze a trail.
The general claimed that if "we take our responsibility seriously, we must provide [Kiev] with the heavy weapons" before its stockpiles run dry, because it could take well over a month from the government's decision to have Leopard 2 tanks on the ground in Ukraine.
"At some point Ukraine will have lost its last tank, then it will need supplies. And at some point there will be a ceasefire, then Ukraine will also need further support and weapons," Domröse said. "It is high time that the European countries that have Leopard tanks now form a coalition of the willing and deliver together in a coordinated manner."
Moscow has consistently argued that Western weapons deliveries to Ukraine only serve to prolong the conflict. It has also warned that NATO member states are getting increasingly involved in the hostilities, which could potentially lead to an all-out military confrontation between the bloc and Russia.
The general acknowledged that the only way to end the conflict is through a negotiated agreement acceptable to both sides, suggesting that a possible solution could be for Zelensky to waive Kiev's demand to immediately integrate Crimea into Ukraine and instead agree to a "transition period" of 50 years.
However, the Kremlin previously called such proposals a non-starter, insisting that if Ukraine wants peace it should take into account "the new realities," referring to the four former Ukrainian regions that voted to join Russia last fall, after Crimea did the same in 2014 following a coup in Kiev.
You can share this story on social media: