Ukrainian parliament slammed for celebrating Nazi collaborator
A Twitter post cheering Stepan Bandera's birthday has caused a backlash among Kiev's supporters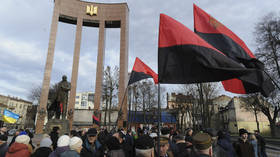 A post on social media by Ukraine's parliament that celebrated the birthday of WWII Nazi collaborator Stepan Bandera (1909-1959) has sparked a wave of condemnation from Polish officials, as well as researchers and journalists from the US and Israel. The Verkhovna Rada deleted its tweet amid the outcry.
The now-deleted post celebrating what would have been Bandera's 114th birthday on January 1 featured a quote from him and a photo of the Ukrainian Armed Forces chief, General Valery Zaluzhny, with a large portrait of the Nazi collaborator in the background.
Another apparently deleted post by the Rada quoted Bandera as having said that "the complete and supreme victory of Ukrainian nationalism will be when the Russian Empire ceases to exist," Israel's Haaretz newspaper reported on Monday. Zaluzhny was "well aware" of "these instructions of Stepan Bandera," the post added, according to the news outlet.
The posts were not received well by Ukraine's backers in the West and particularly by Poland.
Ukrainian parliament Twitter page deletes its tweet & photo of Commander-in-Chief of Armed Forces of #Ukraine propagating terrorist & Nazi collaborator #Bandera. Bandera OUN & UPA collaborated with Nazis & perpetrated mass murder of Jews, Poles & #Ukrainians during World War II. pic.twitter.com/LfUfb9jPIF

— Ivan Katchanovski (@I_Katchanovski) January 2, 2023
"Bandera was the murderer responsible for the genocide of Poles in 1943-44," Kacper Plazynski, the head of the EU Affairs Committee in the Polish parliament, said in a tweet, adding that the Ukrainian Insurgent Army (UPA) – a militant wing of the Organization of Ukrainian Nationalists (OUN) led by Bandera – "horribly killed about 100,000 Polish civilians."
Another Polish MP and a former deputy interior minister, Sylwester Tulajew, echoed Plazynski's condemnation. A Polish brigadier general and the former head of the Government Protection Bureau (BOR), Andrzej Pawlikowski, insisted that commemoration of Bandera "must raise strong opposition."
Even Kiev's ardent supporters in its ongoing conflict with Moscow appeared to be angered by the official tweet. Eugene Finkel, a Ukrainian-born American political scientist, who'd earlier accused Russia of committing "genocide" in Ukraine, called the move "appalling."
"Bandera would have hated a democratic, liberal Ukraine. He would be the first in line to assassinate its Jewish president," Finkel wrote in a Twitter post, referring to Ukraine's head of state Vladimir Zelensky.
In Israel, a Haaretz journalist, Sam Sokol, called Bandera "a Ukrainian ultra-nationalist and antisemite whose followers engaged in a campaign of ethnic cleansing against Jews and Poles during World War II" in response to Kiev's tweet.
Bandera has been officially hailed as a national hero in Ukraine since 2010. Ukrainian nationalists regularly marked his birthday on January 1 with torch-lit marches and massive demonstrations.
You can share this story on social media: