Zelensky aide moots 'Lord of the Rings' concept to win conflict
Ukraine should consider becoming a monarchy and have its own "Return of the King," Alexey Arestovich has said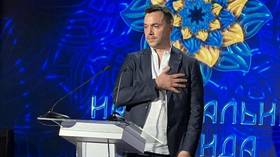 Ukraine could become a monarchy in a bid to defeat Russia, a senior aide to President Vladimir Zelensky has suggested, likening the situation in Kiev to J.R.R. Tolkien's iconic trilogy 'The Lord of the Rings'.
Alexey Arestovich referred in particular to the final installment of the masterpiece, 'The Return of the King'.
"If we are in the Lord of the Rings script… a return of the king must happen, that is, Aragorn. Is Ukraine ready for a monarchy?" he asked during an interview with Ukrainian musician Oleg Skripka on Sunday.
"And I'll tell you, if you think rationally, the only way to kill everything that is coming at us from Moscow is to declare a monarchy," he added. However, Zelensky's aide did not clarify who might become the country's new sovereign.
Arestovich claimed a monarchy would also enable Ukraine to start "collecting the lands" that had belonged to the Rurik dynasty that ruled Kievan Rus from the 9th century. After the collapse of Kievan Rus four centuries later, the Ruriks ruled the Grand Duchy of Moscow, greatly expanding its territory and eventually transforming it into the Tsardom of Russia.
In support of his argument, he noted that the United Kingdom is also a monarchy. "Not the worst country in the world, is it?" he added.
"Just consider this thought even outside the scope of this interview and look for the benefits of the return of the king," Arestovich said.
The 'Lord of the Rings' parallels attracted the attention of the media after an informal summit of the leaders of the Commonwealth of Independent States (CIS) in St. Petersburg, which took place last month.
At the summit, participating leaders received nine 'club rings' as a gift, alluding to the Tolkien trilogy, in which the same offering was presented to the race of men by the Dark Lord Sauron in a ploy to bend their will.
Commenting on the analogy, Kremlin Press Secretary Dmitry Peskov described the rings as "just a kind of a New Year's gift," adding that "there is nothing special there."
You can share this story on social media: