Russia has no choice but to defend its interests and people – Putin
The country's opponents keep relying on the 'divide and conquer' principle, the president says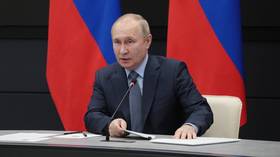 Russia's actions regarding the conflict in Ukraine are aimed at defending the country's interests and its people, President Vladimir Putin has stated.
"I'm convinced that we're moving in the right direction. We're protecting our national interests, the interests of our citizens, our people. We simply have no other choice but to protect our citizens," he told the Rossyia 1 channel on Sunday.
The Russian leader recalled that since 2014 Moscow has sought a diplomatic solution to the crisis in Ukraine. Kiev, however, directed by the West, has shown no willingness to negotiate.
"The policy of our geopolitical opponents lies at the core of it all, aimed at pulling Russia – historical Russia – apart. 'Divide and conquer' – that's what they have always tried to do, and they are trying to do it now," he said.
Meanwhile, Moscow has a different priority, as its goal is "uniting the Russian people," Putin stressed. Russia remains eager to discuss "acceptable solutions" with all parties involved in the conflict in Ukraine, the president said. "It's not us who reject negotiations, but them," he added.
Putin was also asked about the planned delivery by Washington of a Patriot air defense battery to Ukraine. "Of course, we'll wipe them out, 100%," he responded. The US government pledged to supply Ukraine with one battery of the advanced MIM-104 Patriot long-range anti-missile system, which requires dozens of trained personnel to operate. The course usually takes months to complete.
Moscow has long decried deliveries of Western arms to Kiev, saying that they only prolong the conflict and increase the risk of a direct confrontation between Russia and the US-led NATO bloc.
You can share this story on social media: