Deadly blaze devours house for elderly in Russia
A fire broke out at an unregistered shelter for the homeless, Kemerovo officials say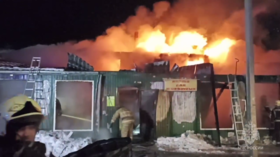 At least 22 people have died in the Siberian city of Kemerovo after a private residence caught fire early on Saturday morning. Dozens of firefighters and emergency crews eventually managed to contain the blaze.
The building reportedly belonged to a local Protestant pastor, and was being improperly used as a homeless shelter for the elderly.
The fire was detected around 3:30am local time. Some 28 vehicles and 80 firefighters were dispatched to handle the flames. Initial reports spoke of 11 deaths, but that number has since increased to at least 22, as confirmed by Russia's Investigative Committee.
The Emergencies Ministry official told Interfax that the victims appear to be the elderly residents of an unregistered homeless shelter. At the moment, the authorities suspect the fire was caused by an electrical malfunction, as "the wiring probably could not handle that many heaters," the official said.
The undocumented nursing home reportedly did not have any fire-suppression systems, normally required of legally registered institutions.
Russia's Investigative Committee's branch in Kemerovo region said in a statement early on Saturday that it had launched a criminal probe into the blaze.
Authorities also revealed they had detained and brought charges against the person believed to be in charge of the unregistered nursing home.
Last year, the acting head of the Emergency Ministry lamented an "epidemic" of fire deaths in Russia due to people skirting regulations.
Kemerovo, a city between Novosibirsk and Krasnoyarsk in southeastern Siberia, is notorious for the March 2018 fire that engulfed a shopping center, killing 60 people – most of them children, and injuring another 80.
Investigators later found that the mall had been improperly converted from an old factory. The owners had turned it into a "death trap" by not putting in emergency exits and fire suppression systems, while local officials turned a blind eye to safety violations.
The Russian Investigative Committee's branch in Kemerovo Region said in a statement early on Saturday that it had launched a criminal probe into the blaze.
You can share this story on social media: