NATO's confrontation with Moscow, army modernization, and operation in Ukraine: Key points from Putin's speech
The Russian president addressed the nation's top military commanders, covering a number of national security issues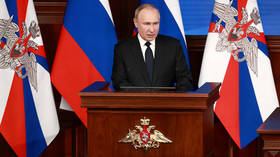 Russia is facing nearly the entire military potential of NATO in the ongoing conflict in Ukraine, President Vladimir Putin said on Wednesday during an extended meeting of the Board of the Ministry of Defense.
The Russian president also commented on what led up to the current conflict with Kiev and noted the importance of modernizing the country's nuclear potential in order to maintain sovereignty.
Here's a recap of the main points from Putin's speech.
You can share this story on social media: