'Terror attack': How the Crimean Bridge became a key route for Russia and major target for Ukraine
RT explains the significance of the transportation artery which Kiev has repeatedly threatened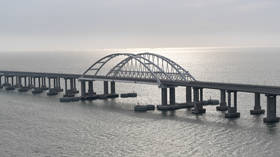 Russian authorities said on Saturday that what was likely a truck bombing had damaged the strategic Crimean Bridge, which connects the peninsula with the country's mainland. The Foreign Ministry stated that the incident was proof of the "terrorist nature" of the regime in Ukraine.
Traffic on the bridge has been closed off after the blast caused a partial collapse of the road section and a fire on the railway portion.
The blast followed threats from Kiev, which has claimed responsibility for an attack that left three civilians dead.
You can share this story on social media: