Zelensky reacts to Musk's peace proposal
The Ukrainian president rallied his followers against "the Elon Musk who supports Russia."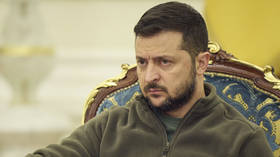 Ukrainian President Vladimir Zelensky responded on Monday to a peace plan put forward by Tesla and SpaceX CEO Elon Musk, which called on Ukraine to make some concessions to Russia.
In a poll on Twitter, Zelensky asked his followers "which Elon Musk" they "like more": the one "who supports Ukraine," or the one "who supports Russia." At time of writing, just under 85% chose the former.
Earlier on Monday, Musk suggested that Russia hold new UN-supervised referendums in its newly-acquired territories, while Ukraine formally relinquishes its claim to Crimea, guarantees the peninsula's water supply, and declares itself a neutral country.
"This is highly likely to be the outcome in the end," Musk continued, adding that it is "just a question of how many people die before then."
Musk put the plan to a poll, where around 60% of respondents approved before the vote swung against him. Musk attributed this rapid change in results to the "biggest bot attack I've ever seen."
Amid criticism from pro-Ukrainian posters and officials in Kiev, Musk stood firm, arguing that Russia's population advantage guarantees it victory should Zelensky follow through on his stated goal of retaking Crimea and Moscow declare war in response.
Russia is doing partial mobilization. They go to full war mobilization if Crimea is at risk. Death on both sides will be devastating.Russia has >3 times population of Ukraine, so victory for Ukraine is unlikely in total war. If you care about the people of Ukraine, seek peace.

— Elon Musk (@elonmusk) October 3, 2022
While Zelensky's poll leaned heavily to one side, the Ukrainian leader was criticized by some pundits for engaging in such social media tiffs. "This guy does photoshoots for Vogue and sits on a never-ending mountain of cash from [the] west…and then gets angry when Elon suggests that maybe ending the war before more of his people needlessly die is a thing worth pursuing," American conservative Greg Price wrote.
Musk has lent Zelensky his support before, offering Ukraine terminals to access his satellite-based Starlink internet service in the early days of the conflict. However, he resisted pressure from "some governments" to block Russian news sites on the service, and admitted to colleagues that he thought RT made "some good points."
You can share this story on social media: