Kremlin comments on borders of new territories
Moscow will consult with residents of Kherson and Zaporozhye, spokesman Dmitry Peskov said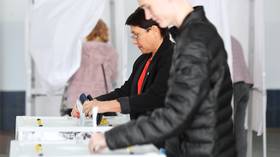 Moscow has yet to determine the future borders of Kherson and Zaporozhye Regions, which are set to be incorporated into Russia, Kremlin spokesman Dmitry Peskov has told journalists.
"We will continue to consult with the residents of those regions on the issue of borders," the official said on Monday.
The two former Ukrainian regions voted last month to break away from Kiev and request being accepted into Russia. However, parts of them are still controlled by Ukrainian troops.
The issue of borders came up last week, when President Vladimir Putin signed orders recognizing the two regions' independence. The documents did not include any reference to the demarcation of the territories. When asked by journalists for clarification, Peskov promised to give an answer later.
Further complicating the situation is the fact that Russian forces are in control of a small chunk of Ukraine's Nikolaev Region, which borders Kherson Region. Vladimir Saldo, the head of the Kherson administration, claimed last week that the land would be incorporated into Russia.
This week, the Russian parliament is scheduled to ratify the unification treaties with the two regions, as well as the Donetsk and Lugansk People's Republics.
The latter two territories, which were recognized as independent by Russia in February, are defined "by the 2014 borders," according to Peskov.
Russian troops and Donbass militias have since seized much of the disputed land, but not all of it.
Kiev blasted the referendums that paved the way for the accession as a "sham" and reiterated its intention to defeat Russia on the battlefield and oust its troops from all land that it claims as Ukrainian. Moscow said the ballots were a legitimate exercise of the right to self-determination.
You can share this story on social media: