Long way home: How Ukraine lost control of regions that returned to Russia
RT recalls the chain of events that led to Kiev's loss of sovereignty over a significant part of its former territory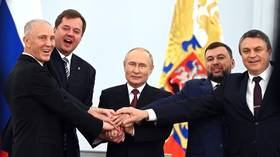 President Vladimir Putin has signed documents paving the way for the formal acceptance by Moscow of the Donetsk People's Republic (DPR) and Lugansk People's Republic (LPR), as well as Kherson and Zaporozhye Regions. The treaties await ratification by the Russian parliament.
According to the Kremlin, Friday's decision followed a democratic vote, in which people living in the former regions of Ukraine exercised their right to self-determination and requested to be protected from Kiev.
The historic move was condemned and rejected by Kiev and its foreign backers, which regard it as an annexation of sovereign Ukrainian territory.
RT takes a look back at how an armed coup in Kiev eight years ago led to a change of European borders and a major armed conflict.
You can share this story on social media: