Blast kills LPR prosecutor general
The attack is believed to have been carried out by Ukraine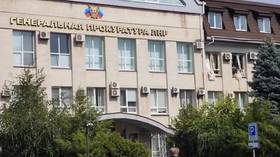 An explosion in the capital of the Lugansk People's Republic (LPR), killed the region's chief prosecutor and his deputy on Friday, according to the state's top official, Leonid Pasechnik.
Sergey Gorenko and his deputy, Ekaterina Steglenko, died in a "terrorist act," he said. The staff of the prosecutor's office has been evacuated. According to local security forces, a home-made bomb went off in the building.
Commenting on the blast, Leonid Pasechnik accused Kiev of orchestrating the attack, saying that it "has crossed all the red lines."
"Today's incident once again confirms that Ukraine, under its current leadership, is a terrorist state," he stated, adding that law enforcement agencies are already looking for the culprit behind the bombing.
Videos posted on social media show that the explosion damaged the third floor of the building.
The republic, along with the neighboring Donetsk People's Republic, was recognized as independent by Russia in late February, prior to the beginning of the military campaign in Ukraine. The LPR was fully liberated from Kiev's troops in early July by Russian and allied forces.
On Friday, a Ukrainian missile attack hit the office of the pro-Russian administration in the southern city of Kherson, killing one employee and injuring one official. On the same day, a Ukrainian strike killed one civilian and injured two in the Russian town of Valuyki, not far from the Ukrainian border.
You can share this story on social media: