Deceiving West and 'detached' elites: Highlights of Putin's speech at Eastern Economic Forum
The Russian president accused Western leaders of hurting their own people through incompetence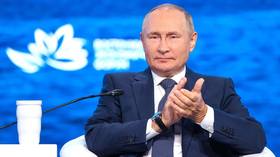 President Vladimir Putin delivered a lengthy speech at the Eastern Economic Forum in Vladivostok, in Russia's Far East.
Among other things, he commented on the unfolding crisis in the global economy, which he attributed to the shortsightedness of Western elites. According to Putin, they are trying to cling to global power while it slips from their hands.
Here are some of the key points Putin made in his address.
You can share this story on social media: