Putin explains Ukraine operation goals
Russia is trying to end the war Ukraine waged on its own citizens after the 2014 coup, Vladimir Putin says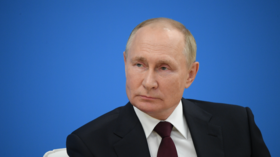 Moscow seeks to end the conflict in Ukraine, which began in the aftermath of the 2014 Maidan coup, as well as prevent the emergence of an "anti-Russian enclave" in its territory, Vladimir Putin has said. The Russian president made the remarks on Thursday during an open class held for Russian schoolchildren called the "Important Talk."
"Everyone believes that some kind of aggression on the part of Russia is happening today. No one understands or knows that after the coup d'état in Ukraine in 2014, the people of Donetsk, Lugansk, Crimea – a significant part of them, in any case – did not want to recognize the outcome of this coup," Putin said.
New post-Maidan Ukrainian leaders began a war on their own citizens and "have been waging it for eight years," he went on. "And our goal, our mission, the mission of our soldiers, of the Donbass militias, is to end this war, to protect people and, of course, Russia itself," the president explained.
An anti-Russian enclave is being created in the territory of present-day Ukraine, which is threatening our country.
Putin also touched upon the state of and approach to school education in Ukraine, telling schoolchildren about what Russia's Minister of Education Sergey Kravtsov witnessed during his recent visit to Donetsk and other territories liberated during the ongoing conflict. The president admitted that the minister's account shocked him and he "was sitting with his mouth wide open" during Kravtsov's report.
They didn't even know that Ukraine and Russia were part of a single state – the Soviet Union. They just don't know it. That's how they were taught.
"[Ukrainian] schoolchildren did not know the Crimea bridge exists, they thought it was a fake," Putin said, referring to the Kerch road and railway bridge erected between mainland Russia and the peninsula following the 2014 reunification.
Russia sent troops into Ukraine on February 24, citing Kiev's failure to implement the Minsk agreements, designed to give the regions of Donetsk and Lugansk special status within the Ukrainian state. The protocols, brokered by Germany and France, were first signed in 2014. Former Ukrainian president Pyotr Poroshenko has since admitted that Kiev's main goal was to use the ceasefire to buy time and "create powerful armed forces."
In February 2022, the Kremlin recognized the Donbass republics as independent states and demanded that Ukraine officially declare itself a neutral country that will never join any Western military bloc. Kiev insists the Russian offensive was completely unprovoked.
You can share this story on social media: