Artillery hits Zaporozhye nuclear dump
Four Ukrainian artillery rounds struck the spent fuel storage area, Energodar officials say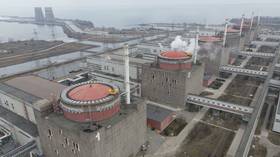 Four artillery projectiles fired from Ukrainian positions struck the fuel storage site of the Zaporozhye nuclear power plant on Friday, authorities in the Russian-controlled city of Energodar claimed. They added that radiation levels remain normal, suggesting that they inflicted no damage.
Europe's largest nuclear power plant was seized by Russian troops in early March, soon after Moscow launched its military operation in Ukraine. Since then, Russian National Guard and specialist troops have been guarding the site, while the Ukrainian staff continued operations.
Russian and local officials have accused Ukrainian forces of repeatedly attacking the Zaporozhye NPP with drones, artillery and even US-supplied weapons. Kiev has rejected the accusations and claimed Russia was using the facility as a military base and shelling its own troops to make Ukraine look bad.
On Thursday, shelling started a wildfire south of Energodar and forced a shutdown of the power plant to prevent a meltdown.
While the reactor building is designed to withstand a lot, the plant's support systems are far more vulnerable. The area where hundreds of barrels of spent fuel are stored is particularly problematic, as any breach could lead to a radioactive release.
Russian ambassador to the UN Vassily Nebenzia has shown evidence of Ukrainian culpability in the shelling to the Security Council, including naming the units involved and giving their precise location.
International Atomic Energy Agency (IAEA) chief Rafael Grossi said on Tuesday he personally intended to lead a mission to inspect the Zaporozhye NPP "within days." Moscow has repeatedly called on the IAEA to come inspect the facility, but the mission has been delayed by Ukraine's insistence the inspectors must travel through Kiev.
The Ukrainian government and its Western backers have accused Russia of a plot to "steal Ukrainian electricity" and demanded Moscow hand the Zaporozhye plant back to Kiev's control, or set up a 30-kilometer (18-mile) demilitarized zone around it. Moscow has rejected the demands as unacceptable.
You can share this story on social media: