Targets of new EU anti-Russia sanctions revealed - media
Brussels' latest blacklist includes 48 individuals and eight entities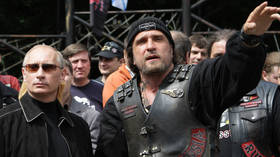 The leader of the Night Wolves biker club Aleksandr Zaldostanov, Moscow mayor Sergey Sobyanin, as well as popular Russian actors Sergey Bezrukov and Vladimir Mashkov are among the 48 individuals targeted by the EU's latest Russia sanctions, according to multiple outlets citing a draft of the sanctions list.

Zaldostanov, 69, was singled out by the EU for "actively supporting Russian state propaganda through publicly denying Ukraine's right to statehood and calling for the 'denazification' as well as the 'de-Ukrainization' of the country," the document says, as cited by EUObserver.
Founded by Zaldostanov and a number of associates soon after the collapse of the USSR, the Night Wolves Motorcycle Club has grown into something of a patriotic movement. The club has held numerous rides in support of 'traditional values' and is one of the founding factions of Anti-Maidan, a counterprotest organization intended to thwart Western-inspired regime change in Russia. Russian President Vladimir Putin has personally participated in some of the club's rides.
Zaldostanov is also on the US and Canada's sanctions lists for his participation in the events that led to the secession of Crimea from Ukraine.
Actors Bezrukov and Mashkov were, in turn, targeted, for allegedly spreading "pro-war propaganda," the newspaper reports.
Both award-winning actors with multiple starring roles under their belts, Vladimir Mashkov and Sergey Bezrukov have been outspoken supporters of Russia's operation in Ukraine since its start on February 24. During a visit to Lugansk in June, Mashkov told his fans Russia was fighting in Ukraine to protect "our brothers and sisters," calling those who oppose the campaign "monsters."
In a post on his VK page in March, Bezrukov recited 'To the Slanderers of Russia,' a patriotic poem by Alexander Pushkin, saying: "It's one thing when we are solving our problems by ourselves, but when other countries who do not know our history or culture start intervening, that's a different story."
Most of the individuals targeted by new sanctions are Russian military commanders and politicians, including Moscow Mayor Sergey Sobyanin. The draft document also lists a number of Ukrainian nationals appointed by Russia to various government positions in the territories it controls.There are also relatives of Russian oligarchs who have already been slapped with restrictions. One of them is Pavel Ezubov, a cousin of tycoon Oleg Deripaska, who is reportedly involved in ownership of Deripaska's properties in France, Washington DC and Austria.
The new sanctions package, discussed by EU ambassadors on Monday, also targets eight entities, including Sberbank, Russia's largest lender. Once the list is approved on Wednesday, Sberbank will see its activities in Europe significantly restricted. A ban on Russian gold imports is likewise listed among the new measures.
You can share this story on social media: