British Falklands War vet captured in Donbass asks for help – media
The Briton joined the infamous 'Azov' regiment in 2018 and was detained near the city of Mariupol in the spring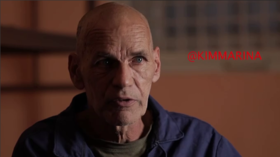 A British man, who fought alongside the infamous Neo-Nazi 'Azov' regiment in Mariupol, has asked London for help in a video published by a Russian journalist over the weekend. Identified as John Harding, the man says he would otherwise "face the death penalty."
"I would say to [UK Prime Minister] Boris Johnson, if you can help, if you can influence [Ukrainian] President Zelensky, if you can influence the president of the Donetsk People's Republic (DPR), or if you can influence [Russian] President [Vladimir] Putin, then please do," Harding can be heard saying
The clip was posted by a correspondent with Moscow's Channel One broadcaster, Marina Kim, on her Telegram channel.
"People's lives are depending on this. So, if you can, please, help," he adds, saying that "otherwise I face the death penalty. My friends face the death penalty."
Harding's friends and family confirmed to the BBC that it was him in the video. The UK Foreign Office told the British media it was "concerned" by his detention.
Some major British media outlets like the BBC and the Guardian identify Harding only as a man "in his 50s and originally from Sunderland," northern England. Some other media reports – both in the Russian and English-speaking news outlets – suggest he is a Falklands War veteran, 59, who also fought Islamic State (IS, former ISIS) in Syria together with Kurds.
The man is said to have joined the infamous Ukrainian 'Azov' regiment in 2018. He was reportedly captured in May as the 'Azov' fighters had to surrender alongside other Ukrainian forces in the city of Mariupol following a months-long standoff with the Russian forces and the Donbass militias.
Kim referred to him as a "British mercenary" in her Telegram posts as she confirmed he was "a footstep away" from his sentence and potential death penalty. The Donetsk People's Republic authorities have so far not officially commented on his case.
Two other British fighters – Aiden Aslin and Shaun Pinner – had previously been sentenced to death by a court in the DPR alongside a Moroccan national. All of them surrendered to the DPR forces in the city of Mariupol in the spring.
London insists that its citizens should be treated as prisoners of war under the Geneva Convention. Officials in Donetsk have said they consider the captives to be mercenaries, which means they are not under the protection of international law, unlike regular combatants. All the foreigners sentenced to death in the DPR have appealed their verdicts.
Russia previously asked the UK to deal with the DPR directly, which the UK has refused to do. London has repeatedly refused to name the Donetsk People's Republic, calling the region's authorities "Russian proxies."
You can share this story on social media: