'Stand up for Ukraine' raises $11bn
Proceeds from the pledge campaign are allegedly destined for Ukrainian refugees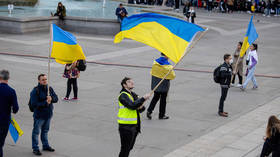 The 'Stand Up for Ukraine' pledge drive and concert event has already netted over $11 billion (€10.1 billion) for Ukrainian refugees, European Commission President Ursula von der Leyen announced on Saturday. In addition to the $9.9 billion (€9.1 billion) pledged by European leaders and their supporters, the European Bank for Reconstruction and Development has promised $1.1 billion (€1 billion).
Organized by von der Leyen, Polish President Andrzej Duda, Canadian PM Justin Trudeau, and the NGO Global Citizen – streaming online from Warsaw – the event is set to include dozens of musical performances. Among the participating artists are U2, Miley Cyrus, Madonna, Pearl Jam, Billie Eilish, the Red Hot Chili Peppers, Stevie Wonder, Ozzy Osbourne, and Celine Dion.
Some 10 million Ukrainians have fled their homes since the invasion began, with 6.5 million of those displaced internally and 3.5 million having reportedly left the country. Two million are said to be children.
President Volodymyr Zelensky weighed in on the proceedings in a video calling on "musicians, actors, athletes, businessmen, politicians, everybody who wants to join the movement and stand up for Ukraine" to participate, thanking von der Leyen and gushing that "Ukrainian courage has already united the whole democratic world" before lapsing into familiar demands for more sanctions on Russian banks and oil companies.
"Join us, join for humanity to win," the actor-turned-politician said.
Donated funds are supposed to be earmarked for humanitarian support, such as paying for emergency health services, and providing shelter, water, and food. Last month, Trudeau launched a special program for Ukrainians wanting to come to Canada featuring streamlined visa and travel requirements, reduced fees, financial and travel aid, and other assistance. Over 30,000 people have been approved under the program already.
The 'Stand Up for Ukraine' campaign, which was launched on March 25, culminated in a "social media rally" on Friday during which supporters are asked to make and post videos explaining why they're "standing up for Ukraine." Donors are being directed to "vetted grassroots nonprofits supporting people displaced by the conflict" and asked to plead with world leaders to take action on the "global refugee crisis." The concert, streaming online, followed on Saturday.
According to von der Leyen, a Ukrainian child becomes a refugee "almost every single second" since Russia's "special military operation" began in February.
Moscow sent troops into Ukraine in late February, following Kiev's failure to implement the terms of the Minsk agreements signed in 2014, and Russia's eventual recognition of the Donbass republics in Donetsk and Lugansk. The German and French brokered protocols had been designed to regularize the status of those regions within the Ukrainian state.
Russia has since demanded that Ukraine officially declare itself a neutral country that will never join the US-led NATO military bloc. Kiev insists the Russian offensive was completely unprovoked and has denied claims it was planning to retake the two republics by force.
You can share this story on social media: