New chemical plant blast reported in Donbass
Kiev and the breakaway Lugansk People's Republic blamed the new incident on each other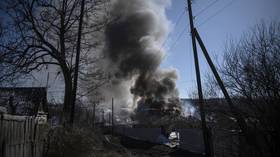 A holding tank containing hazardous materials has been destroyed at a chemical plant in the Lugansk People's Republic (LPR) town of Rubezhnoye, both local and Kiev-appointed officials said on Saturday. The blast comes days after a similar incident occurred at the facility amid the ongoing conflict between Russia and Ukraine.
"Today, once again, a tank with nitric acid was blown up on the territory of the Zarya chemical plant in the town of Rubezhnoye, which resulted in a release of toxic substances into the environment," the LPR's militia said in a statement, accusing Ukrainian nationalist units of using "terrorist tactics" against the civilian population and destroying infrastructure.
The incident has been confirmed by the Kiev-appointed governor of Lugansk, Sergey Gaidai. However, he blamed the blast on artillery shelling by the "orcs" – a derogatory term commonly used in Ukraine to describe forces of the Donbass republics and the Russian military.
"Nitric acid is dangerous if inhaled, swallowed and in contact with skin and mucous membranes. Acid fumes are irritating to the respiratory tract," Gaidai said in a Facebook post.
Footage circulating online shows a large plume of pinkish vapor emerging from the site after the blast.
The new release of nitric acid at the Zarya plant comes days after a similar incident at the facility. On Tuesday, another tank also apparently containing nitric acid exploded at the plant, sending a large toxic plume into the air. The LPR and Ukraine also blamed that incident on one another, while both sides warned of the potential impact on the local population. It was not immediately clear, however, whether anyone was harmed by either incident.
Moscow sent troops into Ukraine in late February, following Kiev's failure to implement the terms of the Minsk agreements signed in 2014, and Russia's eventual recognition of the Donbass republics of Donetsk and Lugansk.
The German and French brokered Minsk Protocol was designed to give the breakaway regions special status within the Ukrainian state.
Russia has since demanded that Ukraine officially declare itself a neutral country that will never join the US-led NATO military alliance. Kiev insists the Russian offensive was completely unprovoked and has denied claims it was planning to retake the two republics by force.
You can share this story on social media: