Russia and Ukraine trade accusations over Bucha civilian deaths (TIMELINE)
After footage of dead civilians in the Ukrainian city of Bucha emerged, the West immediately pointed the finger at Moscow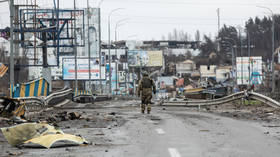 Ukraine has accused Russian troops of committing war crimes in the city of Bucha. However, Moscow insists that the allegations are baseless and has implied that the Ukrainian government is manipulating the media to smear Russia.
Bucha is a small city of around 35,000 residents, located some 10km northwest of the Ukrainian capital Kiev. From the early days of the ongoing Russian military attack, Moscow's troops have been present in the area, but last week they were ordered to evacuate.
Days after the withdrawal, Kiev accused the Russian military of committing numerous atrocities in Bucha. Moscow has denied the allegations and unsuccessfully tried to call a UN Security Council meeting to discuss what it claims to be an attempt to frame its forces.
Russia's foreign intelligence service earlier warned that Kiev was working to downplay footage of what appeared to be Ukrainian soldiers torturing Russian prisoners of war. The Russian military had warned that provocations could be staged by the Ukrainian side in order to manipulate public, and political opinion in the West.
Here is a timeline of how the events unfolded.
You can share this story on social media: