Status of Crimea not up for discussion – Moscow
The former Ukrainian peninsula is part of Russia, the Kremlin insists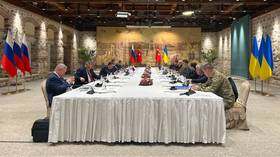 The status of Crimea is settled for Russia, and Moscow will not discuss the issue with Ukraine or any other party, Kremlin spokesman Dmitry Peskov told journalists on Wednesday. He was commenting on the outcome of peace talks in Turkey.
Kiev's proposals for a settlement apparently include a pledge to resolve the territorial dispute over the peninsula within 15 years without the use of force.
"Crimea is part of the Russian Federation. According to our constitution, we cannot discuss with anyone the fates of Russian territories, the fates of Russian regions. That is out of the question," the official said.
Crimea voted to rejoin Russia in 2014, in a disputed referendum, after a violent Western-backed coup in Kiev overthrew the Ukrainian government. Kiev claims the vote was illegitimate and now refers to Crimea as temporarily occupied Ukrainian territory. Ukrainian officials have said that under no circumstances will they drop the claim over the region.
Crimea was part of Russia until 1954, when the Soviet government transferred it to Kiev's control, while both countries were part of a union state.
During the peace talks in Istanbul on Tuesday, the Ukrainian delegation delivered to Russia a written proposal for how the armed conflict between the two nations could be resolved. According to Moscow, Ukraine said it was ready to pledge to remain a neutral nation and not to host foreign troops on its soil. Kiev said that in exchange, it wants NATO-like security guarantees from leading world powers, including Russia.
Russia's top negotiator, Vladimir Medinsky, said that Ukraine is seeking to include "parts" of the Donetsk and Lugansk regions in the definition of its territory for the purpose of security guarantees, and stressed that Ukraine's proposals will not necessarily be part of the final document. Moscow recognized the Donbass republics as independent states in February.
Peskov said Russia's top negotiator is due to make additional public statements later in the day about the progress made, which the Russian government considers promising, but still modest.
You can share this story on social media: