Controversial 1990s figure quits Kremlin
The longtime official has left the country over the war in Ukraine, Bloomberg reported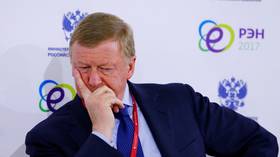 Veteran Russian political figure Anatoly Chubais has resigned from his position as the special presidential aide for sustainable development and allegedly left the country. The move from the economist and long-time official was confirmed by Kremlin spokesman Dmitry Peskov on Wednesday.
According to a Bloomberg report citing two "sources familiar with the situation," the decision was made due to his opposition to Russia's military attack on Ukraine.
The Kremlin commented on the reports by expressing sympathy for Chubais and pledging Moscow's help, should he need it.
"I am not aware of any requests for assistance," Dmitry Peskov, President Vladimir Putin's spokesman, told the media. "The news is definitely sad and we wish him a swift recovery."
Chubais is best known for his role under Yeltsin, whom he helped usher in radical US-advised post-Soviet market reforms in the early 1990s. Their reforms came at the cost of the impoverishment and disaffection of many ordinary Russians, making him something of a hate figure.
He kept a place in the Russian elite in the post-Yeltsin era, holding several senior positions at state-owned institutions. Chubais was considered a champion of big business and liberal political circles in Russia.
Forbes Russia said it contacted Chubais on the phone, but he dropped the call when asked about his whereabouts. The Kommersant business daily claimed the former official was spotted on Tuesday in Istanbul, Turkey.
Chubais has remained part of the Russian government in various capacities, virtually without interruption, since 1991. He has a reputation as an avowed liberal and is known as a strong proponent of integrating Moscow with the West.
You can share this story on social media: