WATCH: British defence minister discusses Ukrainian nuclear plans with Russian pranksters
The notorious Russian duo claims that Ben Wallace implied it was possible London could assist Kiev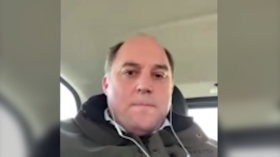 Russian pranksters posted a teaser on Tuesday morning for what they say was a dialogue conducted last week with UK Secretary of Defenсe Ben Wallace, in which he did not rule out the possibility of the UK helping Ukraine develop nuclear weapons.
Wallace, however, did not say anything especially embarrassing or sensitive in the short clip, and made it clear that he'd have to speak to Prime Minister Boris Johnson first, due to the importance of the matter.
The duo behind the set-up, Vovan and Lexus, touted a "full interview" within "a few days." The two men – Vladimir Kuznetsov and Alexei Stolyarov – have previously targeted celebrities such as Elton John and Prince Harry, as well as world leaders such as Canadian PM Justin Trudeau and Turkish President Recep Tayyip Erdogan. Western sources have accused them of working for the Russian state, but the two deny this, insisting their work is purely media in nature.
On March 17, Wallace was contacted via a video call, Russian news outlet Readovka reported. The defenсe secretary, who was in Poland at the time, believed he was talking to Ukrainian Prime Minister Denis Shmygal, requesting London's support in restarting Kiev's nuclear program.
Wallace responded that he believed "Russia would really hate it," before adding, "the principle is: we will support Ukraine as our friend in the choices you make," in the teaser video. However, he appeared to be speaking in terms of alliances, or geopolitical positioning, rather than atomic weapons.
The pranksters have promised to upload the full recording of the call in the coming days.
The British Foreign Office has accused Russia of staging hoax phone calls to "distract" the world from Moscow's "illegal activities" in Ukraine. Vovan and Lexus apparently contacted the defenсe secretary with a fake email and then engaged in a Microsoft Teams call.
Wallace said he stopped the dialogue, which he described as a "dirty trick," when he became suspicious over "misleading questions" and a request to repeat some "slogans."
Home Secretary Priti Patel was apparently among the senior British officials targeted by the pranksters last week. Culture Secretary Nadine Dorries could have been another victim but was fortunate enough to miss the call.
You can share this story on social media: