Putin tells Belarusian president of 'some positive developments' in Ukraine talks
The Russian head of state promised to brief Alexander Lukashenko in more detail later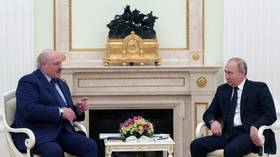 Talks between Ukraine and Russia have seen some "positive developments," President Vladimir Putin told his Belarusian counterpart, Alexander Lukashenko, on Friday. The two heads of state met in the Russian capital for bilateral talks.
Addressing his counterpart, Putin said that he would "definitely inform" him about the "situation around Ukraine, and, first and foremost, of how the negotiations are going now, that are being held almost daily." The Russian president added that "there are some positive developments, as our negotiators have told me." Putin promised to brief Lukashenko in more detail later.
Putin has hailed the high level of cooperation between Moscow and Minsk, noting that he and his Belarusian colleague were "holding meetings regularly, exchanging information by phone, adjusting our moves." Putin also made a point of congratulating Lukashenko on the latest referendum results in Belarus, in which the majority of people voted in favor of constitutional amendments suggested by the president.
The Russian president stated that "this political process which you initiated, the dialogue with the people that you are holding" would contribute to Belarus' stability, which is, according to Putin, a prerequisite for economic growth.
Additionally, Putin pointed out that trade between Russia and Belarus rose by 34% last year alone, concluding that "on the whole the situation is developing positively." Yet, at the same time, the Russian head of state acknowledged that there were "problems linked to the current events, the restrictions, sanctions and so forth." Putin, however, argued that "attempts to contain our developments have always been made," though obviously not to the extent seen today.
The Russian president struck a positive tone, saying that he was certain that both countries would make it through these difficult times, and would become more independent and self-sufficient.
Following the start of Russia's military offensive against Ukraine on February 24, the US, Canada, the whole of the EU, along with Japan, Australia and several other nations, have slapped a raft of unprecedented sanctions on Moscow. Among the individuals and entities targeted are the country's central bank as well as several major commercial banks, state-funded media, including RT, and Russia's leadership directly. Belarus has faced similar punitive measures, for allowing Russian troops stationed there to cross the border into Ukraine from its territory.
You can share this story on social media: