Putin talks to Macron, details Russian demands on Ukraine
The goals of Russia's military action will be achieved "in any case," country's president told his French counterpart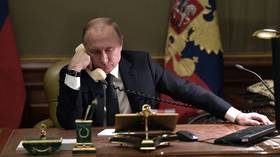 President Vladimir Putin has detailed Russia's demands concerning Ukraine, during a phone call on Thursday with his French counterpart Emmanuel Macron, Moscow has said.
He reiterated the objectives of the Russian military operation, including demilitarization of Ukraine and its neutral status in the future, the readout of the two men's conversation said. Putin stated that his country's objectives will be achieved regardless of any circumstances and that, by delaying peace talks with Moscow, Kiev is simply exposing itself to more Russian demands.
The Russian leader called on Macron to contribute to the effort to safely evacuate foreign nationals from Ukraine, specifically mentioning a large group of Indian students stranded in the city of Kharkov. The French president said he will contact the government of Ukraine on the issue, according to the Russian statement.
The conversation lasted for some 90 minutes, the Elysee Palace told the media. Macron talked with Putin right before having a phone conversation with Ukrainian President Volodymyr Zelensky, according to his official schedule.
You can share this story on social media: