No troops & weapons for Ukraine, Hungary confirms
Budapest has reiterated its stance on war in Ukraine, stressing it won't allow any military aid to flow through its territory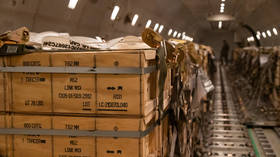 Hungary will not allow transit nor supply weapons to Ukraine amid the ongoing military conflict with Russia, Hungarian Foreign Minister Peter Szijjarto said on Wednesday, reiterating Budapest's stance.
"We have decided, just like our allies, not to send troops, not to send weapons. And we do not allow the transit supply of lethal weapons through Hungary," the minister said during a meeting of the United Nations Human Rights Council.
Hungary has deployed additional troops to its eastern borders to prevent a potential infiltration by unspecified armed groups from neighboring Ukraine, Szijjarto added. Budapest seeks to protect its citizens, as well as ethnic Hungarians living in Ukraine's west amid the conflict, he explained, as military shipments could easily become targets for potential strikes.
At the same time, the top diplomat called for the cessation of hostilities, urging both sides of the ongoing war to stick to diplomacy instead. Moreover, Budapest is ready to host potential talks between Moscow and Kiev.
"Hungary is ready to provide a venue for the negotiations needed to resolve the conflict," he said.
Russia launched a large-scale military offensive in Ukraine last week, proclaiming the need to "denazify" and "demilitarize" the neighboring country, as well as to prevent it from obtaining nuclear weaponry, an idea recently floated by top Ukrainian officials, including Ukrainian President Volodymyr Zelensky.
Moscow argued that the offensive was the only option left to end the bloodshed in the east of Ukraine and prevent Kiev from launching an all-out assault on the breakaway republics of Donetsk and Lugansk. Kiev rejected such allegations, insisting it had not planned to retake the breakaway regions by force and saying the invasion was unprovoked.
Donetsk and Lugansk proclaimed independence from Ukraine back in 2014 in the aftermath of the Maidan coup that ousted Ukraine's democratically-elected government. The rebellion prompted a military operation by the new Kiev authorities in the country's east. While active combat ended with the 2014-15 Minsk agreements, the roadmap it provided out of the crisis was never actually implemented, with low intensity warfare continuing in the region for years.
You can share this story on social media: