Meta blocks all apps of Russia's Ria and Sputnik outlets
The media's parent company denounced the platform's move as "censorship"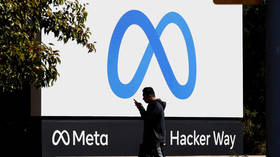 Meta has blocked all the apps of Russia's Ria and Sputnik news outlets, along with several others, according to government media holding Rossiya Segodnya, which incorporates all the said outlets.
On Wednesday, Rossiya Segodnya issued a press release, saying that "Meta overnight shut off the apps of all the outlets" belonging to the holding. The statement went on to condemn the tech giant's action as "censorship."
Meta's decision coincided with the latest measures taken by Google, which saw Rossiya Segodnya's material and content restricted on Google Discover and Google News. The media holding described the move as "information manipulation."
Since February 24, when Russia invaded Ukraine, a number of Moscow's state-owned and state-affiliated media outlets have been taken off air or blocked on the internet by a whole host of countries, including the EU, Australia and Canada. The decisions were made either by authorities or privately-owned social media platforms and TV networks.
On Tuesday, Meta blocked accounts belonging to RT and Sputnik on Facebook and Instagram in the European Union, describing them as a "propaganda arm" of the Kremlin. TikTok has followed suit.
Russian authorities have demanded that Meta restore access to the blocked accounts because the ban runs counter to the basic principles of freedom of expression.
Over the past week, the US, Canada, the UK, the EU and Japan have placed unprecedented sanctions on Russia targeting, among other things, its central bank's assets, major commercial banks and the country's leadership. Over 35 countries to date have also closed their airspace to Russian planes. The punitive measures came in response to Moscow launching a military offensive against Ukraine. President Vladimir Putin claimed that the "special military operation" was intended to "demilitarize and denazify" the neighboring country, as well as to protect the Russian-speaking people of the Donbass. Ukraine and the West are accusing Moscow of waging an aggressive and "unprovoked" war against a sovereign state, and suspect that Putin is seeking to install a pro-Russian administration in Kiev.
You can share this story on social media: