EU bans broadcasts by RT, Sputnik
The Russian outlets have been barred from airing in Europe from Wednesday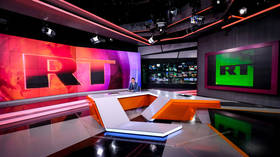 The European Council announced a decision on Wednesday to ban all broadcasting activities by RT and Sputnik in its jurisdiction. It accused the channels of spreading disinformation to their audiences.
The ban will remain in place "until the aggression to Ukraine is put to an end, and until the Russian Federation and its associated outlets cease to conduct disinformation and information manipulation actions against the EU and its member states," the statement said.
Brussels claimed that the two news organizations were "essential and instrumental" in "bringing forward and supporting" the Russian military offensive in Ukraine. It further claimed they were part of a "systematic, international campaign of disinformation, information manipulation, and distortion of facts" aimed at destabilizing Russia's neighbors and EU members.
RT's deputy editor-in-chief Anna Belkina condemned the decision and said critics of the outlet had not "pointed to a single example, a single grain of evidence that what RT has reported over these days, and continues to report, is not true."
Moscow for years has said that Western nations were trying to suppress Russian media through various restrictions. Some EU members imposed outright bans on RT and Sputnik long before the Russian invasion of Ukraine started.
US-based tech giants previously imposed their own restrictions against Russian media. YouTube and Facebook made their content inaccessible on their platforms in Europe, while Apple and Google banned their apps from their stores for European users. In Apple's case, the official store is the only way to install apps on devices.
Ofcom, the British media regulator, is currently investigating RT after the British government strongly implied that the outlet should be banned in the country.
You can share this story on social media: