Russia not ruling out severing diplomatic ties with UK – Moscow
Ambassador Andrey Kelin said British sanctions against Russia may force embassy closure, with Moscow reciprocating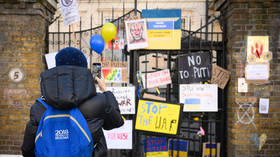 Financial sanctions imposed by the UK against Russia have put into question Moscow's ability to fund its embassy in London, Ambassador Andrey Kelin said on Wednesday.
If the mission is forced to shut down, Moscow will order the British embassy in Moscow to shut down too, effectively severing regular diplomatic ties between the two nations, he warned.
The embassy is analyzing ways to remain financially afloat after the UK-imposed restrictions on major Russian banks, Kelin said in the interview.
"The sanctions provide for exceptions for diplomatic missions so far. If we fully walk this path and confirm that funding is possible, that is one situation, then we'll be able to work. But if it is closed, adequate measures will be imposed against the British embassy in Moscow," Kelin said.
The diplomat said that, for now, the embassy has been operating normally in terms of serving Russian citizens. He, however, has personally been obstructed by the British side, he added.
"Yesterday I was supposed to speak at the Parliament. It was canceled. On Friday, I was scheduled to deliver a speech at the London School of Economics. Canceled too," he said.
Like other Western nations, the UK imposed harsh economic sanctions against Russia to punish it for its military attack against Ukraine. These are meant to cut Russia's ability to use western financial institutions and seriously damage the Russian economy as a result.
Russia-Britain relations have been sour for well over a decade and have plunged even further after last week's Russian attack against Ukraine. Moscow justified the operation by claiming that the government in Kiev was installed with Western help to turn the country into an "anti-Russia" state that would serve as NATO's launchpad to threaten the country.
The UK has been one of the most vocal and generous supporters of Kiev, pumping it with military instructors and weapons, which London stated the country needed to defend itself against Russia.
You can share this story on social media: