Russia closes airspace to 30+ states
The measure is a tit-for-tat response to sanctions against Moscow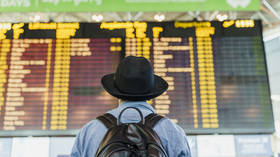 Russia has closed its skies for over two dozen European countries, as well Canada, on Monday. The move came after the EU banned Russian airlines from crossing into their airspace.
European nations began banning Russian-owned airlines and Russian-registered aircraft shortly after Moscow launched a military operation against Ukraine early Thursday morning. On Sunday, European Commission President Ursula von der Leyen announced the closure of the entire EU airspace to Russian-linked flights.
Russia launched a military attack against Ukraine on February 24. Russian President Vladimir Putin explained Moscow's actions by the urgent need to "demilitarize" Ukraine, to protect Donetsk and Lugansk People's Republics and to ensure that Russia would not be put under threat by NATO from the territory of Ukraine.
Ukraine said the action was entirely unprovoked and appealed to the international community for help. After several delays, Russian and Ukrainian negotiators are meeting for the first time in Belarus on Monday.
You can share this story on social media: