EU sanctions Putin and Lavrov
The European bloc made good on earlier threats to sanction the Russian leader and top officials over Moscow's actions in Ukraine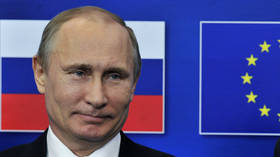 The European Union has officially imposed sanctions on Russian President Vladimir Putin and his foreign minister, Sergey Lavrov, accusing both of violating Ukraine's sovereignty after Moscow launched a military operation in support of two newly recognized republics in the Donbass.
While the penalties envision both asset freezes and travel restrictions, it remains unclear exactly what the latest measures will entail for Putin and Lavrov.
Russian Foreign Ministry spokesperson Maria Zakharova insisted earlier on Friday that neither Putin, nor Lavrov have any assets outside of Russia.
The 27-nation bloc has also blacklisted Russian Prime Minister Mikhail Mishustin, Deputy Chairman of Security Council Dmitry Medvedev and Minister of Internal Affairs Vladimir Kolokoltsev.
The Russian lawmakers who had not been included in the previous sanctions list have also been targeted by the measures, EU policy head Josep Borrell told reporters after a meeting in Brussels on Friday. A total of 351 Duma deputies had already been sanctioned for voting to recognize the two breakaway republics earlier this week.
"President Putin and Foreign Minister Lavrov are in the list of sanctioned people together with the remaining members of the Duma who are supporting this aggression," Borrell said.
Austrian Chancellor Karl Nehammer earlier said the EU would soon roll out the "toughest ever" sanctions package, directly targeting Russia's leader, though noted it would avoid travel bans, as "that would not be appropriate if we wanted to give negotiations a chance." A previous round of EU sanctions announced on Wednesday were imposed on other senior Russian officials, including Defense Minister Sergey Shoigu and presidential chief-of-staff Anton Vaino. Other Western leaders have imposed a long list of penalties on Moscow over the Ukraine operation, targeting major financial institutions and Russian citizens.
British Prime Minister Boris Johnson announced sanctions for the Russian leader and FM on Friday, while urging allies to cut Moscow from the SWIFT international payments network "to inflict maximum pain on President Putin." The United States has vowed to follow suit on the personal penalties, but has yet to include them in another round of sanctions.
You can share this story on social media: