'Territorial gains' not Moscow's goal in Ukraine – Russia's EU envoy
Moscow expects the Donbass republics to be established within their declared borders, the diplomat has said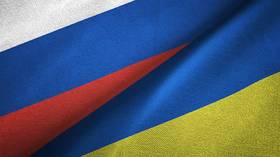 Russia has never sought to make territorial gains at the expense of Ukraine in its military operation, Russia's ambassador to the EU, Vladimir Chizhov, has claimed. The diplomat noted, however, that Russia expects some areas to be added to the two newly-recognized Donbass republics so their territories match the borders within which they were recognized by Russia.
Territorial gains have "never been our intention," Chizhov told Euractiv news outlet in an interview on Friday, when asked if Russian forces would leave Ukraine without making ground gains.
"We have enough territory. What you may be indirectly implying is that the territories of the Donetsk and Lugansk people's republics will be actually extended to cover the whole of those two 'oblast,'" Chizhov said.
The diplomat clarified that Moscow expects the territory that is de-facto under the control of Lugansk and Donetsk to match that "reflected in their constitutions."
"Actually, what the Russian armed forces are doing is in support of the counterattack by the militias of the two now recognized Donbass republics," he said, referring to the ongoing military operation in Ukraine launched by Russia early on Thursday.
Chizhov expressed hope that a "possible new government in Kyiv and authorities in Donetsk and Lugansk would be able to find common ground to negotiate friendly relations" at some point.
"Actually, the Russian army is there not to start the war, it is there to end the war," the Russian envoy to the EU said, echoing the assessment made by Foreign Ministry spokesperson Maria Zakharova in a recent interview with RT.
Russia launched a large-scale military operation in Ukraine on Thursday morning, seeking to "demilitarize and de-nazify" Ukraine, according to the Kremlin. The development prompted the US, EU, UK, and Canada to impose a raft of sweeping sanctions on Russia, which have also personally targeted Putin, government ministers, high-ranking security and military officials and their families, as well as State Duma deputies. The West denounced the offensive as an "unprovoked" attack that violates Ukraine's sovereignty. The Kremlin insisted that the military action was warranted, saying Kiev would have attempted to take the breakaway republics by force in the near future. Kiev had denied this.
You can share this story on social media: