Council of Europe votes to suspend Russia
Italy's FM said it was a "necessary measure in light of Russia's unacceptable military aggression against Ukraine"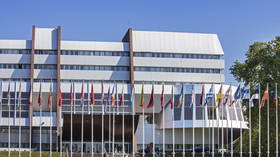 The Council of Europe approved a motion on Friday to suspend Russia's rights of representaion in the institution, which was formed in the aftermath of World War II to protect human rights and the rule of law across the continent.
"The decision adopted today means that the Russian Federation remains a member of the Council of Europe and party to the relevant Council of Europe conventions, including the European Convention on Human Rights," the organization said in a statement.
Italian Foreign Minister Luigi Di Maio welcomed the move, saying that his country "considers this to be a necessary measure in light of Russia's unacceptable military aggression against Ukraine, which constitutes a serious violation of international law."
The decision follows Russia's massive military assault against Ukraine, which the Kremlin said was launched in support of separatist leaders who called on Moscow for support.
Earlier on Friday, Poland's Prime Minister Mateusz Morawiecki announced that the Council would be considering Russia's membership of the body.
Following the decision, Vladimir Dzhabarov, First Deputy Chairman of Russia's Federation Council Committee on Foreign Affairs, demanded the Council of Europe return the annual fee paid by Moscow to the Strasbourg-based institution.
"Dear Council of Europe, if I remember correctly, contributions were paid at the beginning of the year. So, be kind, show decency and return the Russian contribution for the current year. Everything is fair!!!" the senator wrote on his Telegram channel. The figure is understood to be €32.5 million.
Moscow launched a heavy military assault against Ukraine on Thursday – just days after recognizing the independence of the Donetsk and Lugansk breakaway republics in the Donbass.
The recognition was in response to Ukraine's alleged failure to fulfill its obligations under the Minsk agreements struck, which were in 2014 and 2015 to resolve the conflict between separatists and the Ukrainian government.
You can share this story on social media: