Poland and Czech Republic closing airspace to Russian airlines
Airspace over Poland and the Czech Republic will be closed to Russian airlines from midnight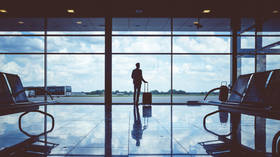 Poland and the Czech Republic will close their airspace to Russian planes at midnight on Friday in the wake of Moscow's military attack on Ukraine, officials from both countries confirmed on Friday.
"I have ordered the preparation of a resolution of the council of ministers that would lead to the closure of airspace for Russian airlines," Polish Prime Minister Mateusz Morawiecki said.
Earlier, Morawiecki condemned Russia's military offensive in Ukraine and called on the international community to adopt harsh new sanctions in response to what he called Moscow's "criminal aggression." He said that the support for Ukraine "must be real" and include the "fiercest possible sanctions."
Government spokesperson Piotr Muller replied to Morawiecki's tweet saying that "the relevant arrangements" were immediately made and that the ban would come into force at midnight local time (02.00 Moscow time).
Soon after Poland's decision, the Czech transport minister Martin Kupka announced that his country was "stopping the operation of all Russian air carriers on Czech territory."
The ban will also enter into force at midnight.
Prague also announced that, starting from February 25, it has stopped accepting all visa applications, except the ones requested on humanitarian grounds, from Russian citizens. The residence permits which have already been issued will be subject to review.
Lithuania, Latvia, and Japan have stopped issuing visas for Russian citizens, while the UK has closed its airspace to Russian airline Aeroflot. In retaliation, Russia closed its airspace to all British planes.
Russia launched a military attack on Ukraine on Thursday morning, with President Vladimir Putin saying the "special military operation" was necessary to "demilitarize" Ukraine and to stop Ukrainian attacks on the Donetsk and Lugansk People's Republics. The move prompted an outcry from Western nations who levied a spate of sanctions on Moscow.
You can share this story on social media: