Zelensky suggests he and Putin negotiate
The Ukrainian president has formally invited his Russian counterpart to engage in diplomatic talks over the current crisis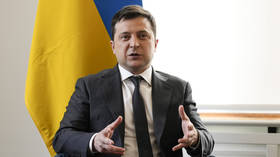 Speaking on Friday, the Ukrainian leader, Volodymyr Zelensky, extended an olive branch to Russian President Vladimir Putin, proposing negotiations, as fighting continues throughout the country and clashes get closer to the country's capital, Kiev.
"I want to again address the president of the Russian Federation. The fighting continues all over Ukraine. Let's sit at the negotiation table to stop human fatalities," Zelensky said, following a statement from his adviser, Mikhail Podolyak, who claimed Kiev "has always left and [still] leaves space for negotiations" despite a "full-scale invasion" by Russian troops.
Earlier on Friday, Podolyak had stated that "if negotiations are possible, they must be held," making clear that Zelensky and his government were willing to discuss the nation's "neutrality status," should Moscow demand it.
Alongside the offer of talks with Russia, Zelensky took a swipe at fellow European countries, which he claimed had not shown themselves to be ready to fight with his nation or to "see Ukraine in NATO."
Following Zelensky's offer, Chinese Central Television reported that, in a telephone call with China's president, Xi Jinping, Putin had stated that his government was ready to negotiate at a high level with Ukraine. No details were immediately released as to what concessions or assurances the Russian leader might seek to secure from his Ukrainian counterpart.
The statement comes as fighting between Ukrainian and Russian forces continued overnight, after Putin ordered troops into Ukraine with the expressed aim of seeking to "demilitarize" Zelensky's armed forces. The EU, the UK, the US, and NATO have all condemned Russia's actions as an "unprovoked" attack, imposing sanctions on the country in retaliation.
You can share this story on social media: