NASA comments on future US-Russia space cooperation
New US sanctions on Moscow will have no impact on civil space cooperation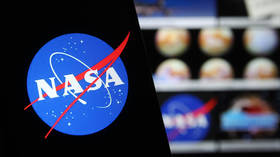 NASA will continue working with the Russian space agency Roscosmos on the operation of the International Space Station (ISS), despite fresh sanctions and export controls imposed on Moscow over its military attack on Ukraine.
In a media statement on Friday, a NASA representative said the agency "continues working with all our international partners, including the State Space Corporation Roscosmos, for the ongoing safe operations of the International Space Station."
"The new export control measures will continue to allow US-Russia civil space cooperation. No changes are planned to the agency's support for ongoing in orbit and ground station operations," they added.
The head of Russia's space agency Dmitry Rogozin had earlier said that the US sanctions could potentially "destroy our cooperation" on civil space exploration. In a series of tweets posted on Thursday, he warned that an uncontrolled deorbit of the ISS could see the 500-ton structure falling to Earth over the US or Europe.
The ISS is a collaboration between the US, Russia, Japan, Canada and the European Space Agency. There are currently two Russian cosmonauts, four NASA astronauts, and one European astronaut living and working on board the station.
US President Joe Biden announced a spate of new sanctions against Moscow on Thursday, warning that they would have a huge and long-lasting impact on Russia's economy, including the aerospace industry and space program.
The sanctions from Western powers came in response to Moscow's military attack on Ukraine on Thursday. The attack followed reports of more shelling along the contact line separating the Ukrainian Army from the Donetsk and Lugansk People's Republics (DPR and LPR), which Moscow has recognized as independent states.
Russian President Vladimir Putin said the operation was designed to "demilitarize and denazify" Ukraine.
You can share this story on social media: