Turkey replies to Kiev's request to close Dardanelles for Russian warships
Ankara has said that international law allows Russian Navy vessels to cross the straits in order to return to their bases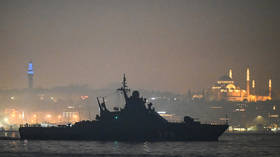 Turkey has said that, under certain conditions, Russian naval vessels would be still allowed to cross the Bosphorus and Dardanelles Straits even if the strategic waterway is closed to them during the conflict with Ukraine.
On Thursday, the Ukrainian envoy to Turkey asked Ankara to close the route connecting the Black and Mediterranean Seas for the Russian Navy. The appeal came hours after Moscow launched an attack on Ukraine, which it argued was necessary to protect the people in two breakaway Donbass republics.
"We demand the closure of the Dardanelles. We want sanctions on the Russian side," Vasyl Bondar said.
Under the 1936 Montreux Convention, Turkey has a right to shut the narrow Bosphorus and Dardanelles Straits to foreign warships during a conflict, and to merchant vessels from countries at war with Ankara.
Foreign Minister Mevlut Cavusoglu confirmed on Friday that Turkey had received an official request from Ukraine to bar Russian vessels from crossing the straits. "The provisions of the Montreux Convention are very clear and precise," Cavusoglu said.
"Turkey can stop the passage of warships through the straits. But there is something else in the Montreux Convention. If there is a demand to [let] the ships of countries at war to return to their bases, it must be allowed," he added.
The Turkish minister said Ankara is examining this issue.
Russia said it began hitting military targets in Ukraine early on Thursday morning, following reports of shelling along the line separating the Ukrainian Army from the Donetsk and Lugansk People's Republics (DPR and LPR). On Monday, Moscow recognized the independence of the two regions that broke away from Ukraine following a coup in Kiev in 2014.
President Vladimir Putin said Russia does not plan to occupy any Ukrainian land. He said, however, that Russia is seeking the "demilitarization and denazification" of Ukraine.
Kiev broke off diplomatic ties with Russia shortly after the start of hostilities on Thursday. It has denied violating a ceasefire agreement with the DPR and LPR and said that Russia's actions were entirely unprovoked.
Several countries, including the US and Britain, imposed new sanctions on Russia after the start of its operation against Ukraine.
You can share this story on social media: