Explosions over Kiev result of missile interception – Ukrainian official
Kiev claims to have intercepted a rocket as the sound of explosions has been reported across the city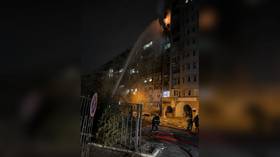 There have been reports of multiple loud blasts heard in the Ukrainian capital of Kiev. Footage has emerged on social media purporting to show the country's forces intercepting a "rocket" over the city. RT could not independently verify the videos.
A short video that has been widely shared online appears to show an intercept by Ukrainian air defenses, which reportedly took place early on Friday.
An adviser to the country's interior minister, Anton Gerashchenko, claimed on Facebook that the sound of explosions that rang out across the city had been caused by the Ukrainian anti-missile defense forces shooting down a "hostile aircraft"
"According to operational information, the enemy aircraft was shot down by the Ukrainian air defense forces," Gerashchenko wrote, adding that it hit a residential building as it fell.
"There is a 9-floor residential building on fire. From 4th to 9th floor. Rescuers are trying to put it out," he added.
Mayor of Kiev Vitaly Klitschko claimed that three people are in a "serious condition" after debris from a "rocket" hit a house located at Oleksandr Koshytsya St, 7.
There are fears that the building might collapse, Klitschko noted, adding that the house was still engulfed by flames as of Friday morning.
Ukraine's State Emergency Service, meanwhile, reported that an "unidentified object" had struck the building, damaging its outer wall and triggering two separate fires. A spokesperson for the service told local media that 150 people had been evacuated and five suffered injuries in the incident.
Photographs and footage of the burning residential building appeared on social media, showing firefighters trying to put out the flames.
The incident took place after Russian President Vladimir Putin announced a "special military operation" in the Donbass on Thursday, ostensibly to defend the Donetsk (DPR) and Lugansk (LPR) People's Republics – which had formally requested Russian military assistance to combat "Ukrainian aggression."
Ukraine, the United States, Canada, NATO, and the European Union have all accused Russia of invading the country and have introduced sanctions targeting Russian industries and government officials.
You can share this story on social media: