Zelensky orders general mobilization
The Ukrainian president said the action is needed to "ensure the defense of the state" amid Moscow's operation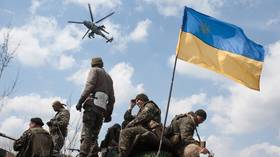 Ukrainian President Volodymyr Zelensky has declared a "general mobilization" of the country's population, calling up conscripts and reserve forces to bolster Kiev's military across the country following Russia's "special operation" in the Donbass, which also targeted sites in Ukraine.
The mobilization should be carried out within the next 90 days, according to a presidential decree released early on Friday.
Zelensky said the move was required to "ensure the defense of the state" and "maintain combat readiness" of the Ukrainian Armed Forces in the face of what he called "aggression" by Moscow.
The mobilization is set to take place in 25 regions and cities, including on the territory of Donetsk and Lugansk in the Donbass, whose independence was recognized by Russia earlier this week.
The General Staff of the Ukrainian military will soon outline more details on the effort, including the exact number of conscripts and reservists to be called to duty, as well as the "involvement of vehicles to meet the needs" of the armed forces, the decree states.
The plan may also call for the "temporary allocation of buildings, structures, land, transport and other material and technical means" to the military, according to the decree. Local government officials would be called to assist with notifying citizens and reserve members that they had been ordered to serve.
Ahead of the Russian military action, Zelensky began conscripting reservists aged 18-60 earlier this week, though at the time said he would not implement a general mobilization. The government has also declared a national state of emergency for at least 30 days and, soon after Moscow's forces moved into the Donbass, imposed martial law. It is so far unclear what the latter measure will entail, with Zelensky simply saying it would apply "on the whole territory" of Ukraine.
Kiev, as well as the UN, US, the EU and NATO, has denounced the recognition of the two breakaway republics by Moscow and a subsequent military operation by Russian forces to "denazify" and "demilitarize" Ukraine as an "unprovoked" violation of Ukraine's sovereignty, rolling out a raft of biting sanctions against targeting Russian elites and aimed at crippling the country's economy.
Announcing a "special operation" in the Donbass early on Thursday, Russian President Vladimir Putin said it was aimed at protecting the people of the two newly recognized republics. The operation has since expanded to sites across Ukraine. The full extent of the action remains unclear, with Russian strikes reported across several Ukrainian cities, though the Russian Ministry of Defense maintains it has targeted military sites only.
You can share this story on social media: