Macron calls Putin over Ukraine
He is reportedly the first Western leader to call his Russian counterpart since Moscow launched an operation in Ukraine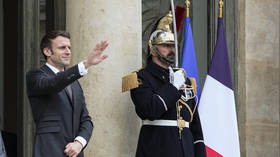 French President Emmanuel Macron phoned his Russian counterpart Vladimir Putin on Thursday, reportedly urging him to end military operations in Ukraine. Moscow described the call as a "serious exchange" of views, ending with an agreement to stay in touch.
The telephone conversation initiated by the French leader late on Thursday evening consisted of a "serious and open exchange of opinions about the situation in Ukraine," the Kremlin said in a readout.
Putin gave Macron "an exhaustive explanation of the reasons and circumstances for the decision to conduct a special military operation," and the two leaders "agreed to remain in contact."
The Putin-Macron call apparently became the first contact between the Russian leader and a head of a Western nation since Moscow announced it was sending troops into Ukraine early on Thursday.
According to the Elysee Palace, as cited by AFP, Macron called Putin on behalf of Ukrainian President Volodymyr Zelensky, to "demand an immediate halt to Russian military operations" and remind the Kremlin that "Russia was exposing itself to massive sanctions."
At a meeting on Thursday afternoon, the EU announced measures on the Russian financial, energy and transportation sectors, the imposition of export controls and visa limitations, as well as restrictions on a number of Russian individuals.
This followed US President Joe Biden announcing "strong sanctions" on Russia, which he said were designed to have a long-term, crippling impact on the Russian economy. This does not include cutting Moscow off from the SWIFT international banking system, which Biden said some European allies of Washington objected to. The US president argued that his measures were "stronger" than a SWIFT ban.
The UN, US, and EU have accused Russia of "unprovoked" aggression against Ukraine. Announcing the military operation on Thursday morning, Putin said its objective was to "demilitarize and denazify" Ukraine. The Russian military has confirmed it carried out strikes on military infrastructure all over Ukraine, insisting that the attack is not aimed at civilians.
You can share this story on social media: